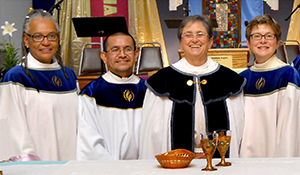 Open Table Metropolitan Community Church (Open Table MCC) is an ecumenical Christian church that has a specific outreach to lesbian, gay, bisexual, and transgender (LGBT) families and communities. It works under the Metropolitan Community Church (MCC) or the Universal Fellowship of Metropolitan Community Churches (UFMCC), a Christian movement with 250 member congregations in 23 countries.
The Fellowship has Official Observer status with the World Council of Churches. Many local MCC congregations are members of local ecumenical partnerships around the world and MCC currently belongs to seven state-wide councils of churches in the United States.
Open Table MCC is a progressive Christian church. We hold regular worship services every Sunday. Being an ecumenical church, we welcome each and everyone regardless of their religious backgrounds and traditions.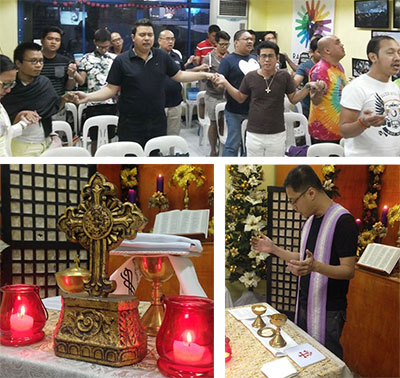 Open Table MCC is an active participant in local LGBT and human rights activism. The congregation is a regular attendee in the annual Metro Manila Pride March and other local pride marches, as well as other activism and outreach activities. Among its social justice works, MCC has a strong commitment to marriage equality for gay, lesbian, bisexual, and transgender people.
Love is our greatest moral value and resisting exclusion is a primary focus of our ministry. We want to continue to be the conduits of a faith where everyone is included in the family of God, and where all parts of our being are welcomed at God's table.
Open Table MCC offers a safe and open community for people to worship, learn and grow in their faith is our deep desire. We are committed to equipping ourselves and each other to do the work that God has called us to do in the world.