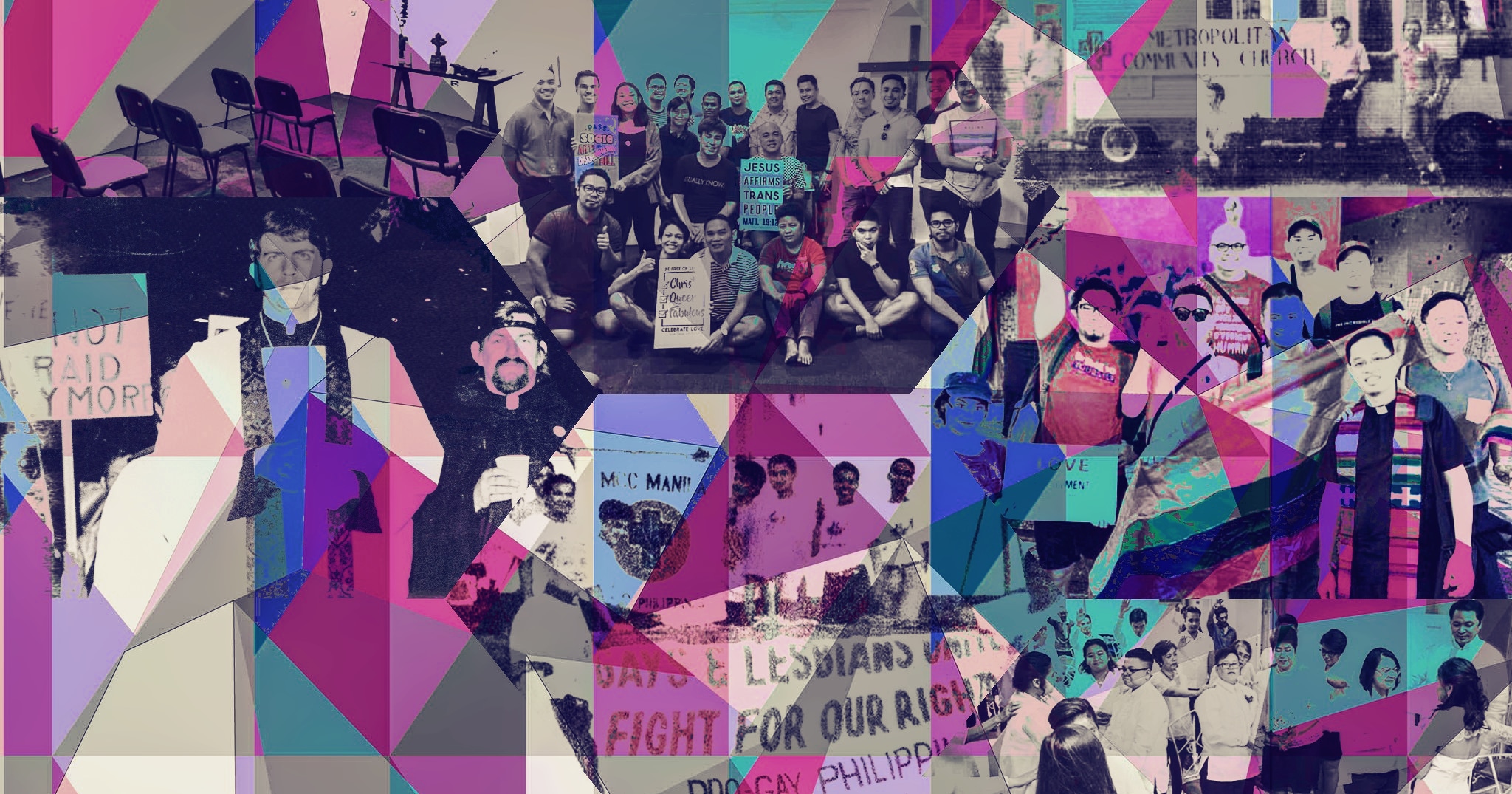 Our Story: The Good, The Ugly, and The Fabulous
Open Table MCC believes in the principles of transparency and integrity. As a progressive Church community we are not ashamed of who we are in all of our gifts and in all of our imperfections throughout our history. We recognize that we are a people on a journey and on a mission of faith, hope and love. In that journey we have had our challenges, struggles as well as small victories and achievements. In the same journey, we have new friends who join us and stay with us and become part of our shared mission. The journey also involves old friends who leave, some eventually return and others have taken their journey elsewhere. Such is the reality of our spiritual and human journey.
While we affirm that MCC is a Church and part of the larger Christian Church Universal – the living Body of Christ on earth moved and animated by the Holy Spirit – It remains to be a human community and institution composed of human individuals who struggle to live, to grow and to serve in Christian love.
We are not perfect. No Church is. No individual is. Therefore our story includes our experiences of imperfection, of a few individuals who came and who left; of people who tried their best and sadly, of person/s who did the worst. Yet we remain resilient and true to our commitment to serve God by serving the people. The Holy Spirit continues to speak to us and speak through us today. God continues to gather God's queer tribe through Open Table MCC and all MCC's throughout the world.
This is our story and we continue to #beMCC.
The Beginnings of the Metropolitan Community Churches (MCC)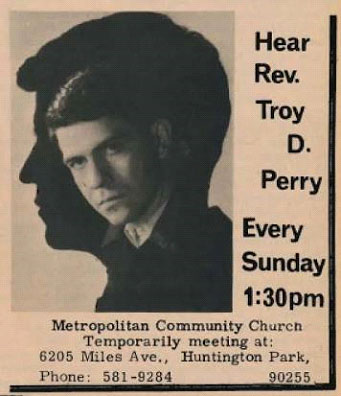 In 1968, a year before New York's Stonewall Riots, a series of most unlikely events in Southern California resulted in the birth of the world's first church group with a primary, positive ministry to gays, lesbians, bisexual, and transgender persons.
Those events, a failed relationship, an attempted suicide, a reconnection with God, an unexpected prophecy, and the birth of a dream led to MCC's first worship service: a gathering of 12 people in Rev. Troy Perry's living room in Huntington Park, California on October 6, 1968.
That first worship service in a Los Angeles suburb in 1968 launched the international movement of Metropolitan Community Churches, which today has grown to 43,000 members and adherents in almost 300 congregations in 22 countries. During the past 44 years, MCC's prophetic witness has forever changed the face of Christianity and helped to fuel the international struggle for LGBT rights and equality. (Read more about UFMCC's history)
MCC in the Philippines
In 1991, a group of Filipino gay men wrote to the Universal Fellowship of Metropolitan Community Churches (UFMCC) asking – "how can we be MCC?" Fr Richard Mickley, an MCC Pastor in New Zealand, upon knowing of the request, did not wait and went to the Philippines by his own efforts and helped the group to organize themselves to be MCC, and to begin the proclamation of God's boundless and unconditional love to the Philippine Islands.
Fr Richard Mickley remembers his first Mass in the Philippines at the National Cathedral of the Holy Child in Taft Manila with approximately 30 to 50 LGBT persons gathering and signing a petition for an MCC Church to be started in the Philippines.
Shortly after the denominational leadership granted formal recognition and affiliation to MCC Philippines.
The first Church was named and registered as MCC Philippines (MCCPH). The Church was, however, more popularly known as MCC-Manila as worship services and other Church activities were held in the City of Manila.
Rev. Edgar Mendoza was named the first Filipino Clergy-Pastor of MCC in the Philippines. The first MCC Church in the Philippines has now relocated to the City of Makati has renamed itself as Good Samarian MCC. The Church is more popularly known as MCC Makati. The MCC Church in Makati had several Lay Pastoral Leaders after Rev. Mendoza, namely:
Pastor Ceejay Agbayani – 2001 (6 months tenure)
Pastor Lino Lee – 2002-2003
Pastor Bjorn San Diego – 2003-2004
Pastor Ohj Encelan – 2004-2005
Pastor Regen Luna – 2005-2008
Pastor Art Ventayen – 2008-2009
Pastor Egay Constantino – 2009 – 2016
Pastor Elmer "Vince" Madolid – 2016 – 2019
(The above list of lay pastoral leaders and their years of tenure are from the institutional memory of Bishop Regen Luna who is now with the Catholic Diocese of One Spirit (CDOS) and leads the Church of God (ECOG) in Dasmarinas, Cavite. The information that was provided was as of February 22, 2019)
Closure of Good Samaritan MCC
After the passing of the well-loved Pastor Egay in 2016, his partner Vince was propelled into the pastoral leadership of the Church. After Pastor Egay's passing, Pastor Vince tried to organize and re-group the congregants of Good Samaritan MCC. They were able to still meet for bible and prayer services in the house of one of their members. Yet as time goes people stopped gathering together despite the efforts and encouragement of Pastor Vince. With almost no gathering and no one coming to scheduled gatherings, Pastor Vince finally declared what was clear and obvious which we also interpret as the closure of Good Samaritan MCC which was formally MCC Manila. The announcement was made through the official Facebook page of Good Samarian MCC on July 22, 2019. He did encourage others, if they felt the calling and urgency, to reconvene, Good Samaritan MCC at same later time and place. But as of the today, year 2020, Good Samaritan MCC (MCC Makati) is closed and no longer gathers together.
Vince Madolid upon the encouragement of Rev. Joseph, joined Open Table MCC and is regarded there as, informally, one of its elders (long time member of MCC).
First Pride March in the Philippines and in all of Asia – 1994
It was in June 26th of 1994 when MCC Manila together with Pro-Gay Philippines held its first pride march in the Philippines in Quezon City. It was also the first ever pride march in all of Asia.
Establishment of Metropolitan Community Church Quezon City (MCCQC) – 2006
According to Bishop Regen Luna who was a former MCC Interim Pastor of MCC Manila (now known as Good Samaritan MCC) – MCCPH had problems with one of their members by the name of Ceejay Agbayani. According to Bishop Regen, Ceejay was always contriving and conniving controversy and conflict in MCCPH (MCC Makati). For the welfare and peace of MCCPH Makati the then Pastor Regen talked to Ceejay to begin a new Church mission in Quezon City and for Ceejay to be the "Envoy" for this mission.
MCC in the Philippines under the leadership of then Pastor Regen Luna, gave authorization for Bro. Ceejay Agbayani to be a "Special Envoy" to the MCCPH-Quezon City Mission.
Bro. Ceejay Agbayani, together with his partner Bros. Marlon Felipe and John Paul Andaquig, established regular Bible study and support group sessions in Quezon City. The first of such fellowships was held on 13 September 2006. Attendees were from Quezon City and the neighboring cities of Marikina, Caloocan and Manila.
On 26 December 2006, the first public worship service of MCCPH-Quezon City Chapter was held in the residence of Bro. Noel Magdririla in East Fairview. The first MCCPH-Quezon City retreat was also held in Bro. Noel's residence on February 2007.
On 15 September 2007, MCCPH-Quezon City (MCCPH-QC) Chapter celebrated its 1st Founding Anniversary. The garden, living room and dining area of Bro. Noel's residence were turned into a mini-chapel. Officers of MCC Makati were in attendance as well as the Union Theological Seminary Choir and faculty members Prof. Debbie Reyes and Prof. Ferdinand Anno. The service was co-celebrated by Pastor Regen Luna of MCCPH, Fr. Richard Mickley of the Order of Saint Aelred, and Fr. Vincent Taguinod of the Iglesia Filipina Indipendiente or known also as Aglipayan Church or Philippine Independent Catholic Church.
MCC Quezon City's Affiliation
In a congregational meeting on April 2008, the members of MCCPH-Quezon City decided to file a request for affiliation to UFMCC through Rev. Elder Ken Martin, UFMCC Elder in Region I – which included the Philippines. Rev. Elder Ken Martin traveled to the Philippines to grant full affiliation to MCCPH-Quezon City on 14 September 2008 rendering the Church fully autonomous and independent. The certificate of affiliation was signed by Rev. Elder Ken Martin in the presence of the MCCPH-Quezon City officers Bros. Marlon Felipe, Mark Adlawan, John Paul Andaquig and Sherman Tam. Bro. Ceejay Agbayani was ordained and was installed as the Church's first pastor. Having been granted full affiliation, the Church has since been called Metropolitan Community Church Quezon City (MCCQC).
MCC Quezon City's First Church Home: Mindanao Avenue Chapel
In November 2008, MCCQC found its first Church home along Mindanao Avenue in Quezon City through Bro. Oliver Andaya. Facing the challenge of raising funds to rent and furnish the MCCQC church home in Mindanao Avenue, MCCQC members pooled their resources together and worked with each other to produce the necessary funds for rent and furnishings. By the grace and faithfulness of God, the MCCQC Chapel in Mindanao Avenue was launched as MCCQC's first church home and was the space for worship, prayer and fellowship. In the same month, MCCQC was registered under the Securities and Exchange Commission (SEC) as a non-profit religious association. After sending a request for subsidy, the MCC Asian Pacific Initiative (API) granted a one-year subsidy for the chapel rental of MCCQC.
MCC Quezon City's Congregational Conflict and Period of Transition (2012)
In July 2012, following two tumultuous MCCQC congregational meetings, a letter of concern and complaint against then Rev Ceejay Agbayani was filed by MCCQC members in the office of Rev. Elder Ken Martin. After a period of review and consultation with UFMCC legal experts, Rev. Elder Ken Martin traveled to the Philippines in September 2012 to address the letter of concern and complaint filed against then Rev Agbayani. Rev. Elder Ken Martin, following due process as mandated by the UFMCC Bylaws and Standard Operating Procedures (SOPs), sought Rev Agbayani's presence so he may answer the allegations filed against him. Rev Agbayani insistently delayed and refused Rev. Elder Martin's invitations. After a series of meetings and consultation with over 15 different people and after Rev Agbayani's noncompliance, Rev Elder Ken Martin decided that Rev Agbayani's ordination credentials are withdrawn due to de-facto resignation. (A "de-facto resignation" is a removal of ordination and clergy license due to willful disregard and non-participation of the investigative process as well as a contempt of the authority of the supervising elder) His clergy license from UFMCC was terminated and subsequently removed as Administrative Pastor of MCC Quezon City.
MCC Makati, together with the parish extensions MCC Metro Baguio and MCC Marikina supported and honored the decision of Rev. Elder Ken Martin in their joint statement released the week following Bro. Ceejay Agbayani's removal.
Bro. Ceejay after spewing false and malicious statements in social media denying the fact of the decision, later formally filed an appeal to the Moderator of the UFMCC, Rev. Elder Nancy Wilson. Rev. Elder Wilson convened a review panel in the Council of Elders, with the exception of Rev. Elder Ken Martin who recused himself from the appeal process. The council to deliberated on the appeal and the merits of the case. On 12 October 2012, Rev. Elder Nancy Wilson announced, in a letter, that the Council of Elders voted unanimously to uphold the decision of Rev. Elder Ken Martin and confirm the de-facto resignation removal of Bro. Ceejay pursuant to the letter of concern and complaint and the prevailing by-laws and policies of UFMCC. (Read more)
From mccchurch.org:

From the Office of the Moderator
Metropolitan Community Churches
For Immediate Release: 12 October 2012

Metropolitan Community Church Confirms Removal of Filipino Pastor Officials of Metropolitan Community Churches released a decision on a request for an appeal which confirmed the removal of Ceejay Agbayani from being pastor of MCC Quezon City and de facto resignation of his credentials as an MCC clergy person.

After a series of meetings in the Philippines, Mr. Agbayani decided not to follow the recommendations of the supervising elder, which set in motion his removal from his position as pastor of MCC Quezon City and the de facto relinquishment of his credentials as MCC clergy.

The decision to confirm his relinquishment of his clergy credentials was based on the related guideline in the Metropolitan Community Churches bylaws, which states that when circumstances require it, an Elder "shall have the authority to interface with that church, to take appropriate measures."

Media contact: Jason O'Neill, Communications Coordinator
Following Rev. Elder Ken Martin's decision, MCCQC began its period of transition and rebuilding: reestablishing the Church by rooting itself once more to no less than Jesus Christ. On 18th September 2012, a set of interim MCCQC LCAB officers was appointed by Rev. Elder Ken Martin, which were Ondyk Uy, Gavin Lua, Doms Ramos and Yhel Briguela. Rev Elder Ken Martin also assigned Bro. Joseph San Jose and Sis. Kakay Pamaran as worship coordinators in MCCQC's period of transition and renewal.
MCCQC was prodded to leave their first Church home in Mindanao Avenue. During this period, MCC Makati lovingly and generously shared their Worship Center for MCCQC's regular Sunday services in the afternoon. This fellowship, love and generosity only served to deepen the relationship between MCC Makati and MCCQC. One MCC Philippines, the fellowship of all Metropolitan Community Churches in the Philippines, was launched during the Manila Pride Parade on 8th of December 2012. The launching of One MCC Philippines marks a renewed and revitalized communion of MCC in the Philippines in carrying out MCC's core values of inclusion, community, spiritual transformation, and social action in accordance to the ministry of Jesus Christ.
MCC Quezon City becomes a Mobile Church
On November 2012, the MCCQC congregation felt it was the right time to go back to Quezon City. The MCCQC Mobile Church was launched on 18 November 2012 with its first worship service back in Quezon City. The Mobile Church was launched to enable the Church to reach communities in Quezon City following Christ's mission of going out to the communities to share the inclusive love of God. Bro. Red Macalalad Jr who was then the volunteer Communications and Campaigns expert, was instrumental in launching the MCCQC Mobile Church and in preparing the first worship service venue in Barangay Kamuning in Quezon City.
Second Church Home: The MCC Quezon City Aurora Center
The start of 2013 was a milestone for MCCQC. In its period of transition and rebuilding, MCCQC has come home to the MCCQC Aurora chapel, also known as the Upper Yellow Room. With only a few pesos in the bank and an ounce of shared faith, MCC Quezon City has pitched its 2nd Tent along Aurora Blvd.
On 10 February 2013, MCCQC's Aurora chapel opened its doors to MCCQC members and friends with the Church's first worship service in its new home at the 2/F Aurora Building, 836 Aurora Boulevard in Cubao, Quezon City.
MCC Quezon City installs New Pastoral Leader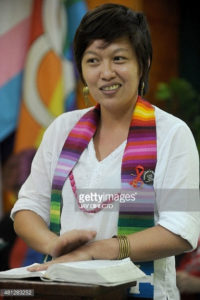 Upon the recommendation of the Newly Elected MCC Quezon City Local Church Administrative Body and the approval of the Asian Pacific Initiative (API) by Rev Stedney Phillips, Pastor Kakay Pamaran was appointed Interim Pastoral Leader (IPL) of MCCQC on March 2013. Pastor Kakay is the first lesbian pastoral leader of the Metropolitan Community Churches in the Philippines. Rev. Stedney Phillips, chair of the API, installed Pastor Kakay on 16th June 2013. Pastor Kakay led the MCC Quezon City Local Church Administrative Board and the MCC Quezon City Congregation as Pastoral leader and Moderator, and Church Ministerial Team as its chair.
Starting 2013 in its new Cubao home, MCCQC as a Church organization started to create a community and a culture of integrity and excellence in all its undertakings and engagements. Bro Red Macalalad was particularly instrumental in the many projects, campaigns and engagements of MCCQC during his tenure as Community Relations & Social Action Officer (CRSAT) as well as an appointed Ministry Leader for Christian Education up until January of 2016.
MCCQC Parish Extensions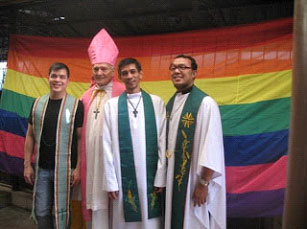 In 22 February 2009, MCC Metro Baguio was established as the first MCCQC parish extension and MCC Metro Baguio held its first public worship with Myke Sotero being installed as its Interim Pastor. While Pastoring the Church, Pastor Myke goes to Ecumenical Theological Seminary for his Theological Education and formation. During the time of MCCQC Transition MCC Metro Baguio supported MCCQC and upon stability in 2013, reestablished and honored its parish extension relationship with MCCQC as its mother and partner Church.
In September of 2015 upon the visitation of MCC Philippines new supervising Rev Elder Darlene Garner, MCC Metro Baguio was granted full affiliation to UFMCC. Having completed his Master of Divinity and complied with his ordination requirements, Ptr Myke Sotero was ordained by Rev Elder Darlene on the same event, and was fully licensed and credentialed as a clergy person in MCC.
In June 2010, MCC Marikina became the second parish extension of MCCQC by the encouragement and sole authorization of Ceejay Agbayai (Before his removal of 2012). The Parish extension was the initiative of Bro. Jason Masaganda and was its lay pastoral leader. During the time of MCCQC transition, as early as July 2012, Bro Jason requested from then Rev Ceejay to make MCC Marikina independent and autonomous from MCCQC, something which then Rev Ceejay had no authority or power to dispense. Therefore, Rev Elder Ken Martin and Rev Stedney Phillips reiterated that MCC Marikina remains to be in the status of parish-extention under API. Upon MCCQC's stability in 2013, Pastor Kakay of MCCQC spoke both MCC Baguio and MCC Marikina if they wish to renew and honor the Parish Extension relationship. MCC Baguio as aforementioned renewed its relationship with MCCQC. MCC Marikina through Bro Jason Masaganda declined and Bro Jason responded that it has a pending request of autonomy from MCCQC through the office of Emerging Ministries (OEM) under Rev Elder Darlene Garner. MCC Marikina during the affiliation and ordination event of MCC Metro Baguio in September of 2015, received its 1 year authorization from Rev Elder Darlene Garner as an Emerging Church Community accountable to the same office and Elder. Emerging Church authorization is assessed annually and are renewed if assessment is found satisfactory by the OEM. MCC Marikina currently holds Bible study and support group sessions in Bro. Jason's Marikina residence. MCC Marikina remains as an Emerging Church community and continues to be under the supervision of the Emerging Ministries, now under the office of Church and Ministry Development (OCMD).
Clergy Formation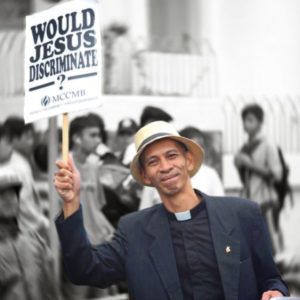 As aforementioned, Rev Myke Sotero has completed his Master of Divinity in Ecumenical Theological Seminary (ETS) in Baguio, in March of 2015. Rev Fr Noel Bordador, an Episcopalian Priest, was instrumental in the completion of Ptr Myke's theological education. He was then ordained and licensed as a clergy person in MCC by Rev Elder Darlene Garner in September 2015. In 2016, Rev Myke was appointed by Rev Elder Darlene as the Network Leader for the MCC Philippines Network.
Pastor Kakay of MCCQC is the recipient of the Ken Martin and Tom Cole Scholarship under MCC's Asia Pacific Initiative (API) in June of 2012, which allowed her to enter seminary and has funded 3 semesters of her Master of Divinity (MDiv) education and formation. Pastor Kakay Pamaran has competed her Master of Divinity on April of 2016 from Union Theological (UTS) Seminary in Dasmarinas, Cavite.
Joseph San Jose also from MCCQC used his own savings to start his seminary education and formation. In June of 2014 he also entered Union Theological Seminary (UTS) to pursue his MDiv. He graduated as the only Summa Cum Laude of his graduating class, 6th of April, 2018. He also received 3 special awards, in Church and Society, Biblical Studies and Liturgy. His seminary education and formation was mostly financed by the generosity of individual donors and sponsors, from friends locally and internationally, from two one-time scholarship grants from UTS and from Crave MCC in Australia.
Rev. Joseph San Jose was formally ordained by no less than the founder of MCC, Rev. Elder Troy Perry on November 24, 2019 – the Solemnity of Christ, the Sovereign. Rev. Joseph's ordination was held in Founders MCC, the founding and mother Church of MCC in Los Angeles California. The Bayanihan Filipino Community made all the preparations for the said ordination and the worship service was facilitated and served by volunteers of Bayanihan
A Period of Decline and Another Transition
As of the 2nd quarter of 2015, a decline in attendance and membership started to crept in and was particularly noticeable towards December of the same year. By the election of the new LCAB officers in February 2016, the decline was already obvious. Looking back through conversations among the 2016 – 2017 leaders, it has been acknowledged that there were organizational setbacks the previous years due to lack of proper organizational programming and an unstable leadership. While MCCQC was sustainable for a time in the years of 2013-2014 and the Church leadership provided excellent campaigns, engagement and projects, the said projects led to organizational and individual exhaustion and demoralization. It was also acknowledged that the Church was far too progressive without the necessary membership education and formation through a Curriculum that did not exist. This 2nd transitional phase was irreversible and had to run its due course.
In July of 2016, Pastor Kakay Pamaran in relation to the upcoming internship of Bro Joseph San Jose, installed Pastor Joseph as Pastoral Intern in MCCQC. She remained to have oversight of the Church from 2016 to May 2017 after which Pastor Kakay Pamaran resigned from her role as Interim Pastoral Leader of MCCQC and gave the recommendation for Bro Joseph to take full administrative and Pastoral leadership of Church community which Rev Elder Darlene Garner recognized in an email exchange.
In August 2016 after arriving from Canada to attend the General Conference of UFMCC, Pastor Joseph did a Church workshop to come up with the core principles of how MCCQC understands itself as a Church. Marco Puzon, a member of the Church did the synthesis of the raw data of the workshop and from it, MCCQC's new and clearer mission was discerned to be the following:
To maintain a safe space for all
To Proclaim God's radically inclusive love for all
To participate in God's greater work of justice and peace in the world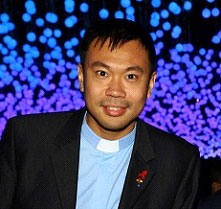 The Church went into survival mode in its attendance and membership in 2016. The demoralization and decline was irreversible. By February 2017, in its congregational meeting the Church congregation officially declared a state of transition and suspended the By-Laws due to non-functionality of the Church organizational structure as well as the decline in people and morale for the past year and a half. At the same time, the Church went into an intentional period of prayerful discernment and reflection. Pastor Joseph invited Pastor Pauline Ong from Free Community Church, Singapore, to conduct MCCQC's annual retreat for that year of 2017 and to talk about "Loving with our whole heart". After the retreat, the mood and morale of the remaining people in Church slowly shifted for the better. Rev Miak Siew also from Free Community Church and an MCC clergy, visited the Philippines last week of May of 2017 and further encouraged the MCCQC leaders and its core members to continuing ministry.
Death of the MCCQC Identity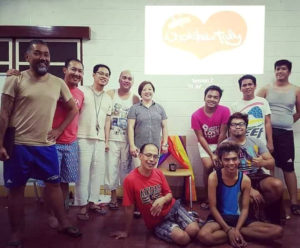 In the 2nd congregational meeting for the year, on August 26 & 27, 2017, the Congregation came up with the decision to close the MCCQC identity. Reasons were from the practicality of not being restricted only within Quezon City for its Church facility to the acknowledgement that the MCCQC identity, with all its historical baggage and continuing association with its former pastor prior to 2012, are actually weighing down on its current members and leaders. The congregation unanimously decided to forego the MCCQC identity and to move out of the Yellow Upper Room Chapel in Aurora Cubao.
On its 11th year anniversary celebration, the congregation symbolically closed and ritually "buried" the MCCQC Identity; remembering and cherishing all its memories of celebrations and struggles, lessons learned and mistakes committed, and the many tears, laughters and stories heard in the Church community that was known as Metropolitan Community Church Quezon City.
Open Table Metropolitan Community Church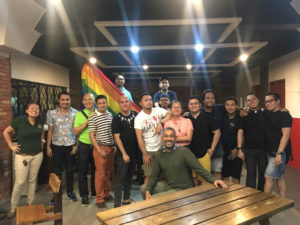 A group of people who despite of the struggles and challenges of what it means and how to actually organize a Church community was not deterred by all that they have experienced and witnessed. Their determination, commitment and passion to minister to fellow Filipinos as a progressive Church of Jesus Christ was all the more embolden. Guided by the Holy Spirit through prayer and fellowship as well as their missional document and statement of faith, this group of people discerned together its new Church Identity. Out of 40+ given identities, this group of people gave birth to its new Church identity "Open Table Metropolitan Community Church (Open Table MCC)".
Open Table MCC was officially launched on October 1st 2017 in its temporary worship space in the National Council of Churches in the Philippines (NCCP). It honors its original founding year of 2006 as well as its rich MCCQC heritage and history, however it is intentional to start anew and chart its own destiny, history, ministry, community life, and its participation and engagement to the work of Justice in the world, separate and distinct from the MCCQC identity.
Open table MCC is a progressive and Queer affirming Church for all people. It is currently addressing its current state of affairs while at the same time laying the foundations of a truly thriving Church community by coming up with its core principles such as its Mission statement, Vision Statement, Spiritual Formation Curriculum, Ministry Class, Care Program, Leadership Development, HIV Ministry and programmatic Outreach program and Justice work.
Open Table MCC will seek and strengthen a new generation of progressive Christians through its spiritual formation and leadership program framed in the shared life of community, worship and service. It shall further develop, sustain and nurture current and future pastoral and lay leaders. Open Table MCC is and will always be a safe spiritual, communal and physical space of prayer and fellowship. It is a Church for ALL PEOPLE regardless of social class, race, nationality, ethnicity, gender identity, Christian background and sexual orientation. As a community of faith, Open Table continues the commitment to "be MCC".
Open Table MCC, opens itself to all who wish to come. Open Table MCC opens itself to go out to the world to serve and prophetically proclaim. Open Table MCC is in the work of opening tables and overturning all other tables for those who need and hunger for God the most.
2018 Proud Faith at the National Cathedral of the Iglesia Filipina Independiente (IFI)
It was a historic event for both Open Table MCC and Iglesia Filipina Independiente (IFI) or also known as the Aglipay Church. IFI opened the doors of its National Cathedral of the Holy Child in Taft Manila for Open Table MCC's event, Proud Faith.
Proud Faith was first launched in 2018 and hopes to be an annual gathering and Pride Worship event of Open Table MCC every Pride Month of June. It is Open Table's way to assert the importance and relevance of progressive and affirming religious articulations within and outside of the LGBTQI+ Community. Pastor Joseph gave a lecture on Homosexuality is not a Sin using Dr Renato Lings' book, "Love Lost In Translation". Rev. Dr. Ferdinand Anno, Professor of Liturgical Theology and Church history preached during the Worship service. Bishop Regen Luna of ECOG-CDOS and a former MCC Pastor concelebrated the Eucharist. It was historic as MCC, an affirming Church together with LGBTQI+ persons from various organizations, was allowed and welcomed to hold worship inside the Sanctuary of the Cathedral which in turn is also historic for IFI because such welcome extended to MCC and to LGBTQI+ community becomes the living embodiment of their 2017 Statement on LGBTQI+ inclusion entitled "Our Common Humanity, Our Shared Dignity".
Open Table MCC hopes in the coming years to forge greater partnership and friendship not just with Iglesia Filipina Independiente but with the rest of the other Churches in the Ecumenical Network to advance the LGBTQI+ movement in our society and churches, as well as the many other justice issues of our country and our present time.
Third Home – Mandaluyong Chapel – The White Room
As a people on a journey, we have had several homes. First the Mindanao Chapel which can be described as the purple-pink room. After the 2012 Church conflict, Open Table MCC who was then MCCQC, temporarily worshiped with then Good Samaritan MCC in Makati City. We then went back to Quezon City in the Barangay Hall of Barangay Kamuning. We then found the a new home in Aurora Cubao which was later known and called by many as the "Yellow Room".
As previously stated above in the period of transition, Open Table MCC left the yellow room and for 1 year temporarily worshiped in the National Council of Churches in the Philippines (NCCP).
In November of 2019 through the efforts of the Pastor and Choi Discipulo, the leadership of the Board and the generosity of individuals and two organizations, we were able to transfer to the heart of NCR, near Boni Avenue, Mandaluyong City. We were able to move to 4th Floor, unit 401 of De Oro Building which is beside GA Tower 2.
In February 2020, the ne Chapel was consecrated and officially opened.It has been described thus so far as the most beautiful chapel of Open Table MCC that came from the bayanihan of everyone who works and believes in the ministry of Open Table MCC. Yet Rev. Joseph reminded the gathered people during the consecration and opening of the Chapel, that the Church is not the place but the people; that our ministry and mission of safe space, love and service is more important than the Chapel. The Chapel in its beauty is but a supplement and a tool for the Church, the people of God, to serve others in more effective and concrete ways. Rev. Joseph hopes that the beauty of the Chapel may always reflect the beauty of the people's shared love for God and for generosity towards others.
---
Last updated – 20 January 2020.