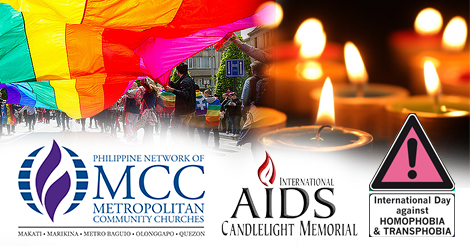 In observance of the International Day Against Homophobia and Transphobia, as well as the International AIDS Candlelight Memorial, the MCC Philippines Network – GS MCC Makati, MCC Marikina, MCC Metro Baguio, MCC Olonggapo, and MCC Quezon City – will hold an ecumenical worship service at Liwasag Aurora, Quezon Memorial Circle, at 3PM until 5PM.
Attendees representing MCC Quezon City are asked to wear either yellow or orange tops/t-shirts.
After the worship service, attendees are also invited to join the Solidarity March and the Candle Lighting Ceremony.