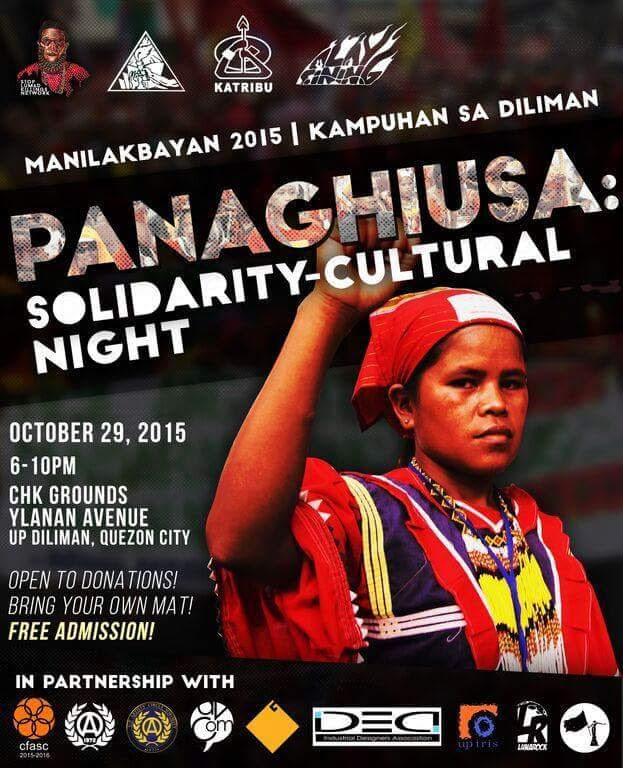 Manilakbayan, the annual protest march of our Lumad sisters and brothers for justice, peace, and for their homeland, is currently at the UP Diliman Grounds with more than 700 Lumads from different tribes and communities in Mindanao. True to our core value of justice and community, MCC Quezon City will join them at UP Diliman on Friday, October 30th, to be in solidarity with our Lumad kababayans, to see the face of God among them, to listen to their stories, and to be with them in their struggle.
What are needed:
Cash
The Manilakbayan Lumads are in need of sponsored meals. One meal for one lumad costs only PHP50. If you feel the nead to sponsor meals for our Lumad sisters and brothers,  please let us know and we will funnel our donations together.
Items
If you also wish to help the Lumads participating in the Manilakbayan through goods, MCCQC will welcome your donations in the form of the following:
Laundry soap
Women's sanitary napkin
Other toiletries (bath soap, small towels, shampoo, toothpaste, etc.)
As you are able, we encourage you to donate both cash for the meals and the donations-in-kind mentioned above, for the Manilakbayan.
Contingent Info:
Date: October 30, 2015 (Friday)
Meeting place: Gateway Food Court
Waiting time: 5:00PM to 6:00PM
Expected time of arrival in UP Diliman: 7:00PM
Point person: Joseph Tiu-SanJose and Jack Quimpo