Habakkuk 1:1-11 (NIV)
The prophecy that Habakkuk the prophet received.

Habakkuk's Complaint

How long, LORD, must I call for help,
but you do not listen?
Or cry out to you, "Violence!"
but you do not save?
Why do you make me look at injustice?
Why do you tolerate wrongdoing?
Destruction and violence are before me;
there is strife, and conflict abounds.
Therefore the law is paralyzed,
and justice never prevails.
The wicked hem in the righteous,
so that justice is perverted.

The Lord's Answer

"Look at the nations and watch—
and be utterly amazed.
For I am going to do something in your days
that you would not believe,
even if you were told.
I am raising up the Babylonians,
that ruthless and impetuous people,
who sweep across the whole earth
to seize dwellings not their own.
They are a feared and dreaded people;
they are a law to themselves
and promote their own honor.
Their horses are swifter than leopards,
fiercer than wolves at dusk.
Their cavalry gallops headlong;
their horsemen come from afar.
They fly like an eagle swooping to devour;
they all come intent on violence.
Their hordes advance like a desert wind
and gather prisoners like sand.
They mock kings
and scoff at rulers.
They laugh at all fortified cities;
by building earthen ramps they capture them.
Then they sweep past like the wind and go on—
guilty people, whose own strength is their god."
Psalm 94 (NIV)
The LORD is a God who avenges.
O God who avenges, shine forth.
Rise up, Judge of the earth;
pay back to the proud what they deserve.
How long, LORD, will the wicked,
how long will the wicked be jubilant?

They pour out arrogant words;
all the evildoers are full of boasting.
They crush your people, LORD;
they oppress your inheritance.
They slay the widow and the foreigner;
they murder the fatherless.
They say, "The LORD does not see;
the God of Jacob takes no notice."

Take notice, you senseless ones among the people;
you fools, when will you become wise?
Does he who fashioned the ear not hear?
Does he who formed the eye not see?
Does he who disciplines nations not punish?
Does he who teaches mankind lack knowledge?
The LORD knows all human plans;
he knows that they are futile.

Blessed is the one you discipline, LORD,
the one you teach from your law;
you grant them relief from days of trouble,
till a pit is dug for the wicked.
For the LORD will not reject his people;
he will never forsake his inheritance.
Judgment will again be founded on righteousness,
and all the upright in heart will follow it.

Who will rise up for me against the wicked?
Who will take a stand for me against evildoers?
Unless the LORD had given me help,
I would soon have dwelt in the silence of death.
When I said, "My foot is slipping,"
your unfailing love, LORD, supported me.
When anxiety was great within me,
your consolation brought me joy.

Can a corrupt throne be allied with you—
a throne that brings on misery by its decrees?
The wicked band together against the righteous
and condemn the innocent to death.
But the LORD has become my fortress,
and my God the rock in whom I take refuge.
He will repay them for their sins
and destroy them for their wickedness;
the LORD our God will destroy them.
Mark 10:46-52 (NIV)
Blind Martimaeus Receives His Sight

Then they came to Jericho. As Jesus and his disciples, together with a large crowd, were leaving the city, a blind man, Bartimaeus (which means "son of Timaeus"), was sitting by the roadside begging. When he heard that it was Jesus of Nazareth, he began to shout, "Jesus, Son of David, have mercy on me!"

Many rebuked him and told him to be quiet, but he shouted all the more, "Son of David, have mercy on me!"

Jesus stopped and said, "Call him."

So they called to the blind man, "Cheer up! On your feet! He's calling you." Throwing his cloak aside, he jumped to his feet and came to Jesus.

"What do you want me to do for you?" Jesus asked him.

The blind man said, "Rabbi, I want to see."

"Go," said Jesus, "your faith has healed you." Immediately he received his sight and followed Jesus along the road.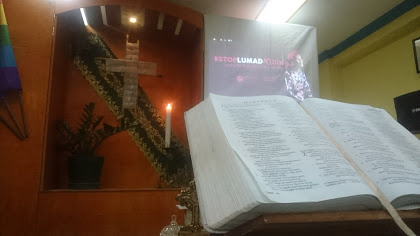 Violence in the ancient times are more ethical in the sense that people really fight for land and territory, people fight for what they believe and the fighting is only between armies. Sometimes its between the champions of two or more rival armies. If you lose, your entire nation submit to the authority of the other nation or kingdom. No blood spilled. Also, less casualty in terms of civilians. Yun nga lang, pag natalo kayo, then the winning army will pillage your country, rape your women, kill your first born and enslave the elderly, the young and the rest of the women. In a way mas violent din nuon kasi nga ang gamit na weapons are swords and axes. So it means chain saw massacre and peg. Ethical in a way kasi may rules and traditions of war nuon na sinusunod pero mas violent kasi talagang ubusan ng lahi at talagang oppression pag natalo kayo.
However today, it is less gory kasi hindi na putol ulo at body parts, pero mas violent in a way na using bombs and explosives are indiscriminate. Kahit sino madadamay kahit hindi pa nalalaman kung sino ba talaga nanalo. Also violence today is more severe in the sense that wars are fought only because of greed. OO greed din naman nuon. Pero ang greed ngayon ay ibang lebel. Hindi lang tao ang pinapatay. Pati yung environment. An entire mountain will be flattened out by Open-Pit minning and the chemicals are then dumped into the rivers, lakes and springs, causing a damage that will take centuries to recover. And wars today continue not so much because of ideology or religion or territory or land as primary reason… secondary na lang yun. War continue to happen because a few people earn billions of dollars because of weapons trade and weapons technology. Many wars today are instigated because of the business of war. Violence and conflict today continue to happen because of profit; profit from weapons and profit from destructive mining. Then there is the petty forms of everyday violence that if you take time to analyze, is rooted from the violence of systemic poverty. Poverty is a form of violence.
In the face of EVIL that causes severe suffering and death among so many people, we then ask as the prophet Habakkuk asks… Asan ka ba oh Diyos? Asan ka? Anong ginagawa mo? Bakit mo hinahayaan mangyari ang mga bagay na ito? Hanggang kelan magdurusa ang napakaraming mga kabataan at kababaihan? Kelan matatapos ang pagpatay sa mga Transwomen and gay men? Hanggang kelan ang reparative rape sa mga lesbians? I have asked the same questions over and over again in seminary. I even have come to a point of cynicism and agnosticism. Ayoko na maniwala sa Diyos, or at least ayoko na maniwala sa konsepto ng Diyos na kinalakhan natin. But then again, whenever I look at the Crucifix I have in-front of my bed, it is asking me back the question… "eh ikaw, ano ba ginagawa mo?"
Each time I ask God where is God in all this evil and suffering, God asks me back, where are you? When I ask, how can you allow such oppression and death, God asks me back "how can you allow?"
We have always been taught that the world we live in today is the normal world. Everything is as is. But there is nothing normal or right in a world where 5 million and more children die of hunger daily. We have been sanitized by the media, the government, our educational system, our society and even the Church; we have been sanitized to the plight of the suffering of so many people. Ganyan talaga. Wala naman ako magagawa. And have thought of that so many times even in seminary or even when I was in Mindanao. What can I possibly do?
Then someone said, "if you cannot feed a hundred, feed just one. Then another one. And then another one." And do it with love.
Great evil thrives when ordinary good people say nothing and do nothing.
Our Lumad brothers and sisters like the blind man in our story, they are crying out. They are being silenced by Government and by the media who doesn't really want to give them enough exposure. But they continue to cry out, and their Manilakbayan is a powerful crying out, not just against government but a crying out to their fellow kababayans. To us.
As a small community in this yellow room, we cannot expect ourselves to join them in their journey from Mindanao to Manila or from Manila back to Mindanao. Pero if merong may kaya, why not. We cannot simply go to Malacanang, barging against PNoy and his capitalist friends and convince them to stop their exploitation of Mindanao and its resources by destroying land and terrorizing Lumad communities. Nor can we simply drop everything in our life and then go on a crusade to help resist the militarization in White Culaman Valley. But like what that old lady in white and blue Sari from Kolkota, India have said, "if you cannot do a HUGE thing. Do one small thing. Then another. Then another. Then one more." And do it with utmost love.
I was so depressed when I was in Mindanao, that I do not know how to mentally and emotionally bring myself back here in Manila because it is as if, I wanted to stay in Mindanao, or at least if I return to Manila I might simply enter a Catholic Missionary Order, and then go to Mindanao, to the mountains to stand with and for the people. Pero andun din yung part na, shit, hindi ko kaya yan. And hence the conflict inside of me and its depression. Then Miss A. One of the facilitators said… the first small step to do with and for our brothers and sisters in Mindanao, is to tell their stories in Manila. Tell their stories to your friends, family and churches. Stories have a powerful way of effecting change even from the perception of people. Speak of their names especially those who have been martyred. Let their names be committed to the memory of others. Let their names be spoken and echoed in your altars. Second, if there are opportunities to be in solidarity with the Lumads, do so. In social media and other venues. If there are opportunities for you to give a face to the stories and names, do so and show your church the face of those martyrs and continuing servant-saints and community of God in the Lumads by offering to them an opportunity to meet the lumads. If there is a way to write a letter to government, international agencies, and to the Pope in Rome. Do so. Write letters in behalf of the Lumad people. Tell the powers of the world, the plight of the people. Then another act of kindness, another story to tell, another lumad gathering to go to, another letter to write, then a fund raising for Lumad schools… and then this and that… until such time that we haven't noticed that we have done so many things in solidarity with the Lumads that we are actually contributing to the work of Justice and Peace that Jesus has always called his followers to do.
In the face of so much suffering and oppression, we can only take two paths… the path of love made real through solidarity, charity, service and greater involvement or that we simply go cynical, then we escape to our comfortable uncaring and uncommitted capsule of personal lives and believing that the only purpose of life is to be individualistically joyful oblivious to the world that needs hope.
I pray, that we in our small ways, the community here in this yellow room will stop being parochial and slowly do one small act of love outside. Then one more. And then just another one. And then one more. And then another loving act. Another work of kindness. Doing all of it out of love for humanity.
So that when the One who was Crucified asks us, "You, what are you doing to the least of them?" we have something to say.
Preaching by Joseph Tiu-San Jose