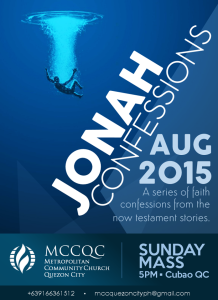 This August,come and join us in processing the epic tale of Prophet Jonah and derive new meanings in every testimony that resonates his faith in God.
Listen to the stories and testimonies of different guest preachers, who will share their faith journey that resonates the struggle of Prophet Jonah.
---
Join MCC Quezon City's worship service every Sunday, 5:00PM. MCC is a church for all. First timers and guests are much welcome. For instructions on how to get to our chapel, click here.