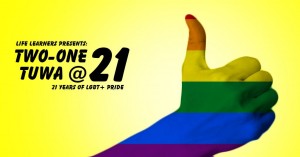 #LifeLearners presents: Two-One Tuwa @ 21, celebrating 21 years of LGBT+ pride.
Join us in the upcoming Life Learners session as we talk about 21 years of fun, joyful, and happy stories about our lives as lesbians, gays, bisexuals, transgenders, queers, or anything in between (LGBT+). Bawal ang malungkot na story, dapat happy-happy lang!
MCCQC's Life Learners is a regular session/discussion on various topics of interest and also serves as a support group for people who regularly participate. It is a space safe for everyone, including the LGBT+. First timers and guests are much welcome.
This event is FREE.
To RSVP, click here:
https://www.facebook.com/events/1029596043756509/
For more information on how to get to our center, please visit:
https://opentablemcc.ph/contact