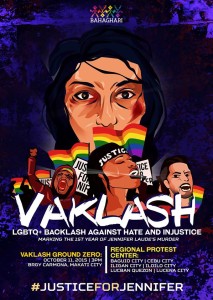 This October 11, 2015, we will mark the 1st year of Jennifer Laude's murder. A year has passed yet justice remains elusive. And even as we wait for the wheels of justice to turn in favor of Jennifer, cases after cases of hate crimes pile up. The absence of a pro-LGBTQ legislation that address discrimination and hate further aggravates the situation and places us in a vulnerable position. It is time to step up our act.
We invite everyone – LGBTQ people, our friends, and allies of our cause, to join us in a VAKLASH! October 11, 2015 will be a day of pride and rage! Together lets march for justice, recognition, and respect!
Vaklash Ground Zero:
October 11, 2015 | Brgy Carmona, Makati City
2pm – Registration
3pm – Ecumenical Prayer Service with MCCQC
4pm – March for Pride and Justice
5pm – Solidarity Program
6pm – Candle Lighting for Jennifer Laude and all the victims of Hate Crime
Regional Protest Center:
October 9 & 11, 2015
Baguio City, Cebu City, Iligan City, Iloilo City, Lucban Quezon & Lucena City
Justice for Jennifer Laude! Justice for all the victims of hate crimes! End Hate! End Discrimination!